Choosing a language
You can interact with the Bluetooth® Hands- Free Phone System using English, Spanish or French.
To change the language, perform the following.
1. Push and hold the

button for more than 5 seconds.
2. The system announces: "Push the PHONE SEND (

) button for the hands-free phone system to enter the speaker adaptation mode or push the PHONE END (

) button to select a different language." 3. Push the

button.
For information on speaker adaptation, see "Speaker Adaptation (SA) mode" later in this section.
4. The system announces the current language and gives you the option to change the language to Spanish (in Spanish) or French (in French). Use the following chart to select the language.
NOTE:
You must push the

button or the

button within 5 seconds to change the language.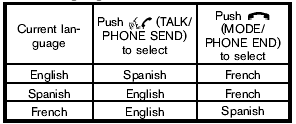 5. If you decide not to change the language, do not push either button. After 5 seconds, the VR session will end, and the language will not be changed.
See also:
Headlight control switch
Type A Lighting 1 When turning the switch to the position, the front parking, tail, license plate and instrument panel lights come on. 2 When turning the switch to the position, the headl ...
AM radio reception
AM signals, because of their low frequency, can bend around objects and skip along the ground. In addition, the signals can be bounced off the ionosphere and bent back to earth. Because of thes ...
Engine compartment check locations
MR20DE engine 1. Engine coolant reservoir 2. Engine oil filler cap 3. Brake fluid reservoir/Clutch fluid reservoir (M/T model) 4. Battery 5. Air cleaner 6. Fuse/Fusible link box 7. R ...