Intelligent Key system (if so equipped)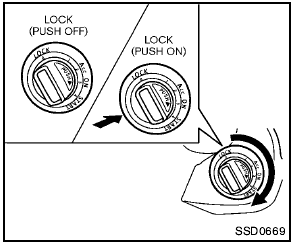 Intelligent Key system (if so equipped)
The Intelligent Key system can operate the ignition switch without taking the key out from your pocket or purse. The operating environment and/or conditions may affect the Intelligent Key system operation.

- Be sure to carry the Intelligent Key with you when operating the vehicle.
- Never leave the Intelligent Key inside the vehicle when you leave the vehicle.
- If the vehicle battery is discharged, the ignition switch cannot be moved from the LOCK position. Charge the battery as soon as possible. See "Jump starting" in the "6. In case of emergency" section.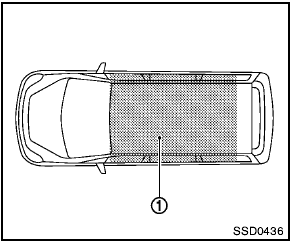 Operating range
The Intelligent Key functions can only be used for starting the engine when the Intelligent Key is within the specified operating range 1 .
When the Intelligent Key battery is almost discharged or strong radio waves are present near the operating location, the Intelligent Key system's operating range becomes narrower and may not function properly.
If the Intelligent Key is within the operating range, it is possible for anyone, even someone who does not carry the Intelligent Key, to turn the ignition switch to start the engine.
- The cargo area is not included in the operating range, but the Intelligent Key may function.
- If the Intelligent Key is placed on the instrument panel, inside the glove box or door pocket, the Intelligent Key may not function.
- If the Intelligent Key is placed near the door or window outside the vehicle, the Intelligent Key may function.
Some indicators and warnings for operation are displayed on the vehicle information display between the speedometer and tachometer.
(See "Vehicle information display" in the "2.
Instruments and controls" section.)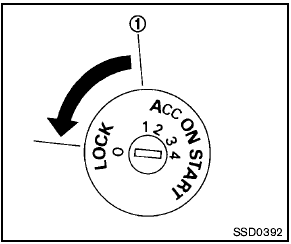 Without Intelligent Key system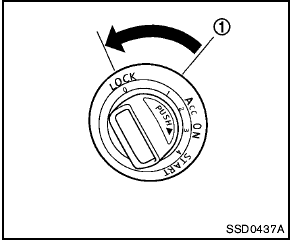 With Intelligent Key system
See also:
History
In 1993, Nissan discontinued its much-criticized Stanza compact car, replacing it with the US-made Altima, originally as a compact car. The very first Altima rolled off the assembly line on June 1 ...
Air cleaner
MR20DE The air cleaner filter should not be cleaned and reused. Replace it according to the maintenance log shown in the "NISSAN Service and Maintenance Guide." To remove the air cleane ...
Push-Button Ignition Switch
WARNING Do not operate the push-button ignition switch while driving the vehicle except in an emergency. (The engine will stop when the ignition switch is pushed 3 consecutive times in quick succ ...