SPORT mode switch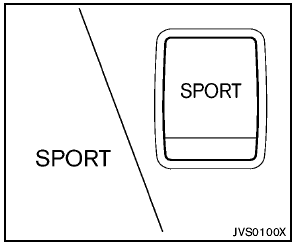 SPORT mode switch
In the SPORT mode, the engine and transmission are controlled to set the engine speed higher than in the D (Drive) position. This enhances throttle response for a "sporty" driving feeling.
To turn on the SPORT mode, push the SPORT mode switch. The SPORT mode indicator light in the instrument panel illuminates. To turn off the SPORT mode, push the SPORT mode switch again. The SPORT mode indicator light on the instrument panel turns off.
If the SPORT mode indicator light does not illuminate when the SPORT mode switch is turned on, the switch or system may have a malfunction. In this case, contact your NISSAN dealer. Even if there is a malfunction in the switch or system, this will not affect normal driving.
- The SPORT mode automatically turns off if a malfunction occurs.
- The SPORT mode only operates at speeds of above 20 MPH (30km/h).
- If the engine is switched off with the SPORT mode on, the SPORT mode resets to off when the engine is restarted.

- In the SPORT mode, fuel economy may be reduced.
- If the overdrive off mode is set when the SPORT mode is on, the overdrive off mode will take priority.
See also:
Change intervals
The oil and oil filter change intervals for your engine are based on the use of the specified quality oils and filters. Using engine oil and filters that are not of the specified quality, or exc ...
Request Switches
WARNING ● Radio waves could adversely affect electric medical equipment. Those who use a pacemaker should contact the electric medical equipment manufacturer for the possible influences bef ...
Air cleaner
MR20DE The air cleaner filter should not be cleaned and reused. Replace it according to the maintenance log shown in the "NISSAN Service and Maintenance Guide." To remove the air cleane ...