AWD warning light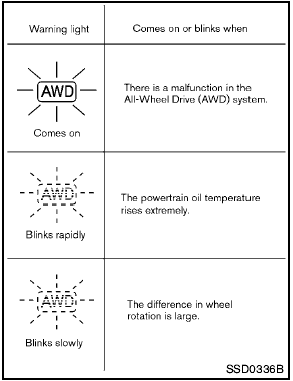 The AWD warning light is located in the meter.
The AWD warning light illuminates when the ignition switch is turned to the ON position. It turns off soon after the engine is started.
If any malfunction occurs in the AWD system while the engine is running, the warning light will come on.
The warning light may blink rapidly (about twice per second) while trying to free a stuck vehicle due to high powertrain oil temperature. The driving mode may change to 2WD. AUTO mode may change to LOCK mode before the warning light blinks. If the warning light blinks rapidly during operation, stop the vehicle with the engine idling in a safe place immediately. Then if the light turns off after a while, you can continue driving.
A large difference between the diameters of front and rear wheels will make the warning light blink slowly (about once per two seconds). Pull off the road in a safe area, and idle the engine.
Check that all tire sizes are the same, tire pressure is correct and tires are not worn.

- If the warning light remains on after the above operation, have your vehicle checked by a NISSAN dealer as soon as possible.
- If the warning light comes on while driving there may be a malfunction in the AWD system. Reduce the vehicle speed and have your vehicle checked by a NISSAN dealer as soon as possible.
- The powertrain may be damaged if you continue driving with the warning light blinking rapidly.
- Never drive on dry hard surface roads in the LOCK mode, as this will overload the powertrain and may cause a serious malfunction.
See also:
General maintenance
During the normal day-to-day operation of the vehicle, general maintenance should be performed regularly as prescribed in this section. If you detect any unusual sounds, vibrations or smells, be s ...
Bluetooth Hands-Free Phone System (if so equipped)
● Use a phone after stopping your vehicle in a safe location. If you have to use a phone while driving, exercise extreme caution at all times so full attention may be given to vehicl ...
Normal operation
The ABS operates at speeds above 3 - 6 MPH (5 - 10 km/h). The speed varies according to road conditions. When the ABS senses that 1 or more wheels are close to locking up, the actuator rapidly ...