Checking engine oil level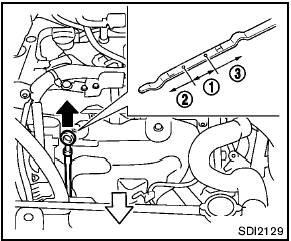 1. Park the vehicle on a level surface and apply the parking brake.
2. Run the engine until it reaches operating temperature.
3. Turn off the engine. Wait more than 10 minutes for the oil to drain back into the oil pan. 4. Remove the dipstick and wipe it clean.
Reinsert it all the way.
5. Remove the dipstick again and check the oil level. It should be within the range 1 . If the oil level is below 2 , remove the oil filler cap and pour recommended oil through the opening. Do not overfill 3 .
6. Recheck oil level with the dipstick.
It is normal to add some oil between oil maintenance intervals or during the breakin period, depending on the severity of operating conditions.

Oil level should be checked regularly.
Operating the engine with an insufficient amount of oil can damage the engine, and such damage is not covered by warranty.
See also:
Floor mats
To avoid potential pedal interference that may result in a collision or injury. ● NEVER place a floor mat on top of another floor mat in the driver front position. ● Use only g ...
SAFETY
My kids' booster seats fit like a charm in the backseat. The seat belt buckles were a little floppy, but older kids won't struggle with them. Younger ones may need a little help buckling up on the ...
Air conditioner specification label
The air conditioner specification label is attached to the underside of the hood as shown. ...