Window washer fluid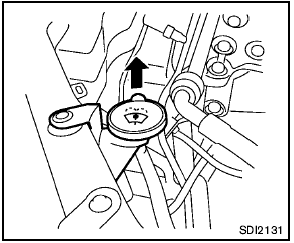 Type A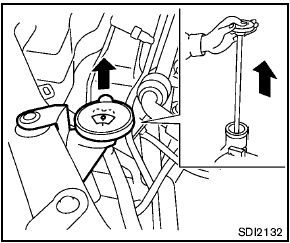 Type B
Fill the window washer fluid reservoir periodically.
Add window washer fluid when the low window washer fluid warning light illuminates (if so equipped).
To fill the window washer fluid reservoir, lift the cap and pour the window washer fluid into the reservoir opening.
Add a washer solvent to the water for better cleaning. In the winter season, add a windshield washer antifreeze. Follow the manufacturer's instructions for the mixture ratio.
Refill the reservoir more frequently when driving conditions require an increased amount of window washer fluid.
Recommended fluid:
Genuine NISSAN Windshield Washer Concentrate Cleaner & Antifreeze or equivalent

- Do not substitute engine anti-freeze coolant for window washer solution.
This may result in damage to the paint.
- Do not fill the window washer reservoir tank with washer fluid concentrates at full strength. Some methyl alcohol based washer fluid concentrates may permanently stain the grille if spilled while filling the window washer reservoir tank.
- Pre-mix washer fluid concentrates with water to the manufacturer's recommended levels before pouring the fluid into the window washer reservoir tank. Do not use the window washer reservoir tank to mix the washer fluid concentrate and water.
See also:
Small children
Children that are over 1 year old and weigh at least 20 lbs (9 kg) should remain in a rear-facing child restraint as long as possible up to the height or weight limit of the child restraint. Forwar ...
Sun visors
Sun visors 1. To block out glare from the front, swing down the sun visor 1 . 2. To block glare from the side, remove the sun visor from the center mount and swing it to the side 2 . ...
Vehicle Overview
Nissan added the Murano crossover sport utility vehicle to its lineup in December 2002. Infiniti, Nissan's luxury division, soon followed with its FX35 and FX45, two other crossover vehicles tha ...