Air cleaner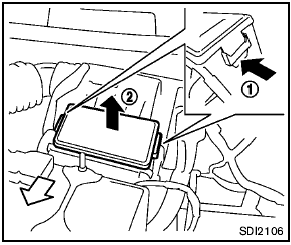 Push the tabs 1 and pull out the filter element 2 .
The air cleaner filter should not be cleaned and reused. Replace it according to the maintenance log shown in the "NISSAN Service and Maintenance Guide". When replacing the filter, wipe the inside of the air cleaner housing and the cover with a damp cloth.

- Operating the engine with the air cleaner removed can cause you or others to be burned. The air cleaner not only cleans the air, it stops flame if the engine backfires. If it isn't there, and the engine backfires, you could be burned. Do not drive with the air cleaner removed, and be careful when working on the engine with the air cleaner removed.
- Never pour fuel into the throttle body or attempt to start the engine with the air cleaner removed. Doing so could result in serious injury.
See also:
Troubleshooting guide
The system should respond correctly to all voice commands without difficulty. If problems are encountered, try the following solutions. Where the solutions are listed by number, try each soluti ...
Gasoline containing oxygenates
Some fuel suppliers sell gasoline containing oxygenates such as ethanol, MTBE and methanol with or without advertising their presence. NISSAN does not recommend the use of fuels of which the oxyge ...
NISSAN Intelligent key battery discharge
If the battery of the Intelligent Key is almost discharged, the guide light (A) of the Intelligent Key port blinks and the indicator appears on the vehicle information display. See Vehicle inf ...