Checking the tire pressure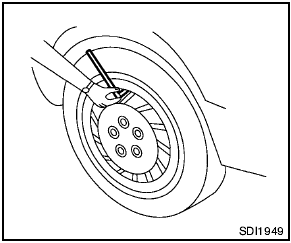 1. Remove the valve stem cap from the tire.
2. Press the pressure gauge squarely onto the valve stem. Do not press too hard or force the valve stem sideways, or air will escape. If the hissing sound of air escaping from the tire is heard while checking the pressure, reposition the gauge to eliminate this leakage.
3. Remove the gauge.
4. Read the tire pressure on the gauge stem and compare it to the specification shown on the Tire and Loading Information label.
5. Add air to the tire as needed. If too much air is added, press the core of the valve stem briefly with the tip of the gauge stem to release pressure. Recheck the pressure and add or release air as needed.
6. Install the valve stem cap.
7. Check the pressure of all other tires, including the spare.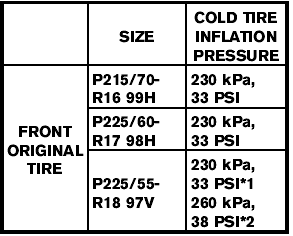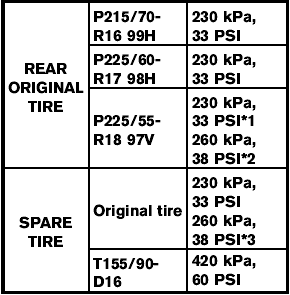 1: 2WD models
2: AWD models
3: AWD models with 18 inch tires
See also:
Before starting
To get the best performance from NISSAN Voice Recognition, observe the following: ● Keep the interior of the vehicle as quiet as possible. Close the windows to eliminate the surrounding nois ...
Starting the engine
1. Apply the parking brake. 2. Move the shift selector to P (Park) or N (Neutral). P (Park) is recommended. The starter is designed not to operate if the shift selector is in any of the driving ...
LATCH lower anchor location
LATCH lower anchor location The LATCH lower anchors are located at the rear of the seat cushion near the seatback. A label is attached to the seatback to help you locate the LATCH lower anchors. ...