Changing wheels and tires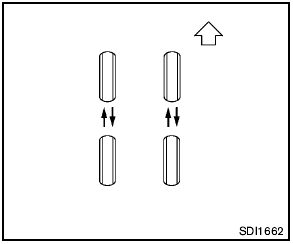 Tire rotation
NISSAN recommends rotating the tires every 7,500 miles (12,000 km). (See "Flat tire" in the "6. In case of emergency" section for tire replacing procedures.)
As soon as possible, tighten the wheel nuts to the specified torque with a torque wrench.
Wheel nut tightening torque:
80 ft-lb (108 N·m)
The wheel nuts must be kept tightened to the specification at all times.
It is recommended that wheel nuts be tightened to the specification at each tire rotation interval.

- After rotating the tires, check and adjust the tire pressure.
- Retighten the wheel nuts when the vehicle has been driven for 600 miles (1,000 km) (also in cases of a flat tire, etc.).
- Do not include the spare tire or any other small size spare tire in the tire rotation.
- For additional information regarding tires, refer to "Important Tire Safety Information" (US) or "Tire Safety Information" (Canada) in the Warranty Information Booklet.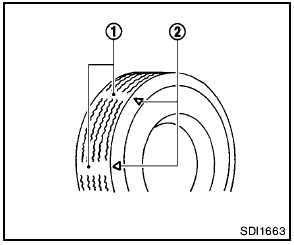 1. Wear indicator
2. Wear indicator location mark
See also:
Push-Button Ignition Switch
Push-Button Ignition Switch WARNING: Do not operate the push-button ignition switch while driving the vehicle except in an emergency. (The engine will stop when the ignition switch is pushed ...
Using the system
Initialization When the ignition switch is placed in the ON position, NISSAN Voice Recognition is initialized, which takes a few seconds. When completed, the system is ready to accept voice com ...
Measurement of weights
Secure loose items to prevent weight shifts that could affect the balance of your vehicle. When the vehicle is loaded, drive to a scale and weigh the front and the rear wheels separately to de ...