Installing front license plate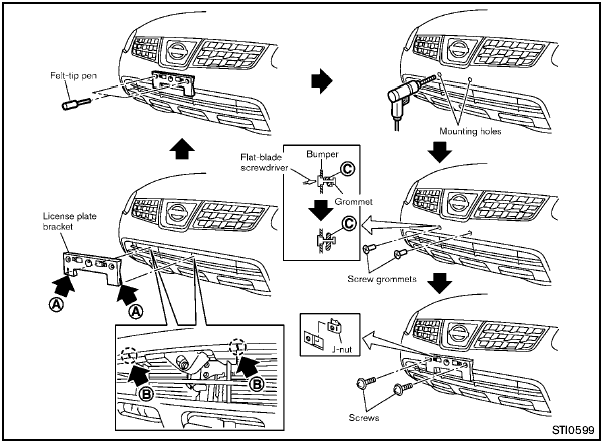 Use the following steps to mount the license plate:
Before mounting the license plate, confirm that the following parts are enclosed in the plastic bag.
- License plate bracket
- J-nut 6 2
- Screw 6 2
- Screw grommet 6 2
1. Temporarily place the license plate bracket by aligning the lower part A of it with the lines B on the bumper.
2. Mark the pilot hole points with a felt-tip pen through the holes of the license plate bracket.
3. Remove the license plate bracket.
4. Carefully drill two pilot holes using a 0.39 in (10 mm) drill bit at the marked locations. (Be sure that the drill only goes through the fascia, or damage to the nut may occur.)
5. Insert grommets into the hole on the fascia.
6. Insert a flat-blade screwdriver into the grommet hole to add 908 turn onto the part C .
7. Insert a J-nut into the license plate bracket before placing the license plate bracket on the fascia.
8. Install the license plate bracket with screws.
9. Install the license plate with bolts that are no longer than 0.55 in (14 mm).
See also:
Maxima in the Market
Even with a few years under its belt, the Maxima remains an alluring choice in the large-sedan market. It's aimed at driving enthusiasts looking for a roomy sedan, and it delivers for them. The sl ...
Intelligent Key operation
You can lock or unlock the doors without taking the key out from your pocket or bag. When you carry the Intelligent Key with you, you can lock or unlock all doors by pushing the door handle ...
Driving It
The Sentra's off-the-line performance is good, with acceleration that's much more effortless than the Civic or Corolla, both of which are offered with traditional automatic transmissions with fixe ...