Installing front license plate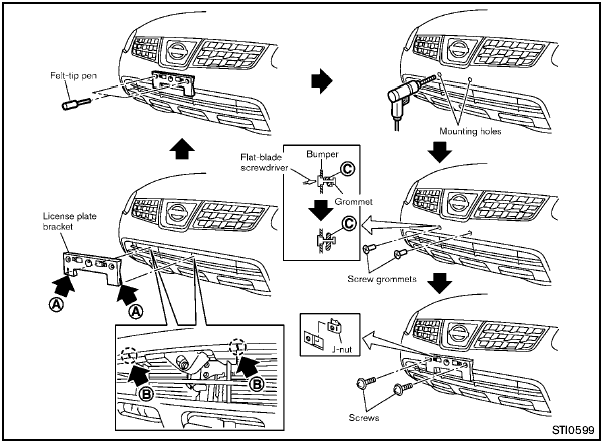 Use the following steps to mount the license plate:
Before mounting the license plate, confirm that the following parts are enclosed in the plastic bag.
- License plate bracket
- J-nut 6 2
- Screw 6 2
- Screw grommet 6 2
1. Temporarily place the license plate bracket by aligning the lower part A of it with the lines B on the bumper.
2. Mark the pilot hole points with a felt-tip pen through the holes of the license plate bracket.
3. Remove the license plate bracket.
4. Carefully drill two pilot holes using a 0.39 in (10 mm) drill bit at the marked locations. (Be sure that the drill only goes through the fascia, or damage to the nut may occur.)
5. Insert grommets into the hole on the fascia.
6. Insert a flat-blade screwdriver into the grommet hole to add 908 turn onto the part C .
7. Insert a J-nut into the license plate bracket before placing the license plate bracket on the fascia.
8. Install the license plate bracket with screws.
9. Install the license plate with bolts that are no longer than 0.55 in (14 mm).
See also:
V-6 Gas Mileage, Performance
One of the disappointing elements of the V-6 Frontier — and one that many people in the market for a smaller truck will likely be concerned about — is its gas mileage. With an automatic transm ...
Radio operation
Radio (FM/AM) band select: Pushing the FM·AM radio band select button will change the band as follows: AM FM1 FM2 AM When the stereo broadcast signal is weak, the radio will automatical ...
New for 2010
The Frontier receives only minor changes for 2010, centered around safety improvements and greater availability of driveline features. ...