Maximum trailer loads
Never allow the total trailer load to exceed the value specified in the "Towing Load/Specification" chart. The total trailer load equals trailer weight plus its cargo weight.
- When towing a trailer load of 1,000 lbs (454 kg) or more, trailers with a brake system MUST be used.
The maximum GCWR (Gross CombinedWeight Rating) should not exceed the value specified in the following "Towing Load/Specification" chart.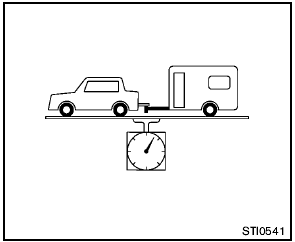 The GCWR equals the combined weight of the towing vehicle (including passengers and cargo) plus the total trailer load. Towing loads greater than these or using improper towing equipment could adversely affect vehicle handling, braking and performance.
The ability of your vehicle to tow a trailer is not only related to the maximum trailer loads, but also the places you plan to tow. Tow weights appropriate for level highway driving may have to be reduced on very steep grades or for low traction situations (for example, on slippery boat ramps).
Temperature conditions can also affect towing.
For example, towing a heavy trailer in high outside temperatures on graded roads can affect engine performance and cause overheating.
The transmission high fluid temperature protection mode, which helps reduce the chance of transmission damage, could activate and automatically decrease engine power.
Vehicle speed may decrease under high load.
Plan your trip carefully to account for trailer and vehicle load, weather and road conditions.

Overheating can result in reduced engine power and vehicle speed. The reduced speed may be lower than other traffic, which could increase the chance of a collision. Be especially careful when driving. If the vehicle cannot maintain a safe driving speed, pull to the side of the road in a safe area.
Allow the engine to cool and return to normal operation. See "If your vehicle overheats" in the "6. In case of emergency" section of this manual.

Vehicle damage resulting from improper towing procedures are not covered by NISSAN warranties.
See also:
Exhaust gas (carbon monoxide)
WARNING ● Do not breathe exhaust gases; they contain colorless and odorless carbon monoxide. Carbon monoxide is dangerous. It can cause unconsciousness or death. ● If you suspect tha ...
Map lights
To turn the map lights on, press the light lens. To turn them off, press the lens again. CAUTION Do not use for extended periods of time with the engine stopped. This could result in a discharged ...
How to use the remote keyless entry function
The remote keyless entry function can operate all door locks using the remote keyless function of the Intelligent Key. The remote keyless function can operate at a distance of 33 ft (10 m) away ...