Control panel buttons - color screen without Navigation System (if so equipped)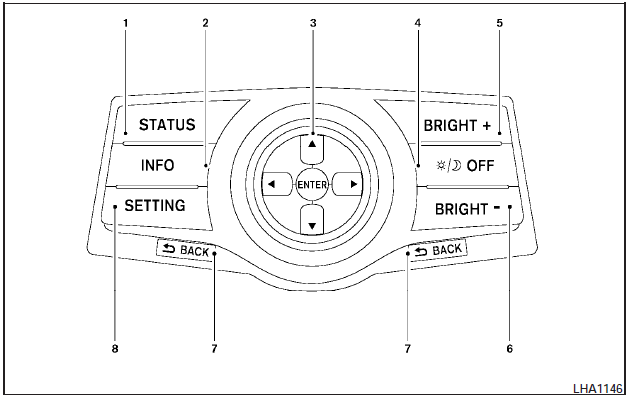 1. STATUS button.
2. INFO button.
3. NISSAN controller.
4.

OFF brightness control button.
5. BRIGHT + (brightness control) button.
6. BRIGHT (brightness control) button.
7. BACK (previous) button.
8. SETTING button.
WARNING:
- Positioning of the heating or air conditioning controls and display controls should not be done while driving in order that full attention may be given to the driving operation.
- Do not disassemble or modify this system.
If you do, it may result in accidents, fire, or electrical shock.
- Do not use this system if you notice any abnormality, such as a frozen screen or lack of sound. Continued use of the system may result in accident, fire or electric shock.
- In case you notice any foreign object in the system hardware, spill liquid on it, or notice smoke or smell coming from it, stop using the system immediately and contact your nearest NISSAN dealer. Ignoring such conditions may lead to accidents, fire or electrical shock.
CAUTION:
- The glass screen on the liquid crystal display may break if it is hit with a hard or sharp object. If the glass breaks, do not touch the liquid crystalline material, which contains a small amount of mercury.
In case of contact with skin, wash immediately with soap and water.
- To clean the display, never use a rough cloth, alcohol, benzine, thinner or any kind of solvent or paper towel with a chemical cleaning agent. They will scratch or deteriorate the panel.
- Do not splash any liquid such as water or car fragrance on the display. Contact with liquid will cause the system to malfunction.
When you use this system, make sure the engine is running.
If you use the system with the engine not running (ignition ON or ACC) for a long time, it will discharge the battery, and the engine will not start.
Reference symbols:
ENTER button This is a button on the control panel.
Example Words marked in quotes refer to a key shown on the display. These keys can only be selected using the NISSAN controller.
See also:
Foreword
Welcome to the growing family of new NISSAN owners. This vehicle is delivered to you with confidence. It was produced using the latest techniques and strict quality control. This manual was pre ...
Brake system
The brake system has two separate hydraulic circuits. If one circuit malfunctions, you will still have braking at 2 wheels. ...
Choosing a language
You can interact with the Bluetooth Hands-Free Phone System using English, Spanish or French. To change the language, perform the following. 1. Press and hold the button for more than 5 seconds ...