How to select menus on the screen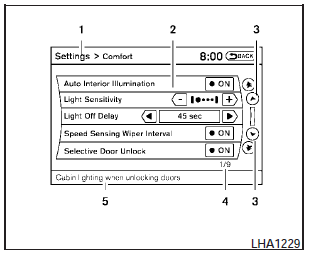 Vehicle functions are viewed on the center display screen in menus. Whenever a menu selection is made or menu item is highlighted, different areas on the screen provide you with important information. See the following for details.
1. Header:
Shows the path used to get to the current screen (for example, press the SETTING button > then select the Comfort key).
2. Menu Selections:
Shows the options to choose within that menu screen (for example, Auto Interior Illumination, etc.).
3. Up/Down Movement Indicator:
Shows that the NISSAN controller may be used to move up or down on the screen and select more options.
4. Screen Count:
Shows the number of menu selections available for the current menu, even if they are on multiple pages (for example, 1/9).
5. Footer/Information Line:
Provides more information (if available) about the menu selection currently highlighted (for example, Cabin lighting when unlocking doors).
See also:
Security indicator light
This light blinks when the ignition switch is placed in the OFF, LOCK or ACC position. The blinking security indicator light indicates that the security systems equipped on the vehicle are opera ...
Using the brakes
Avoid resting your foot on the brake pedal while driving. This will cause overheating of the brakes, wearing out the brake and pads faster and reduce gas mileage. To help reduce brake wear and ...
Audio main operation
Audio main operation AUX button: Place the ignition switch in the ACC or ON position and press the AUX button repeatedly until the iPod mode is displayed on the screen. If another audio sourc ...