How to park with predicted course lines
WARNING:
- Always turn and check that it is safe to do so before backing up. Always back up slowly.
- Use the displayed lines as a reference.
The lines are highly affected by the number of occupants, fuel level, vehicle position, road conditions and road grade.
- If the tires are replaced with different sized tires, the predicted course lines may be displayed incorrectly.
- On a snow-covered or slippery road, there may be a difference between the predicted course line and the actual course line.
- If the battery is disconnected or becomes discharged, the predicted course lines may be displayed incorrectly.
If this occurs, please perform the following procedures:
Turn the steering wheel from lock to lock while the engine is running.
Drive the vehicle on a straight road for more than 5 minutes.
- When the steering wheel is turned with the ignition switch in the ACC position, the predicted course lines may be displayed incorrectly.
- The distance guide line and the vehicle width line should be used as a reference only when the vehicle is on a level paved surface. The distance viewed on the monitor is for reference only and may be different than the actual distance between the vehicle and displayed objects.
- When backing up the vehicle up a hill, objects viewed in the monitor are further than they appear. When backing up the vehicle down a hill, objects viewed in the monitor are closer than they appear.
Use the inside mirror or glance over your shoulder to properly judge distances to other objects.
The vehicle width and predicted course lines are wider than the actual width and course.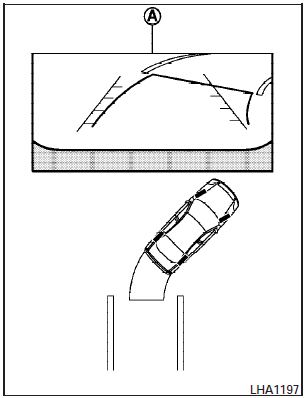 1. Visually check that the parking space is safe before parking your vehicle.
2. The rear view of the vehicle is displayed on the screen (A) when the shift selector is moved to the R (Reverse) position.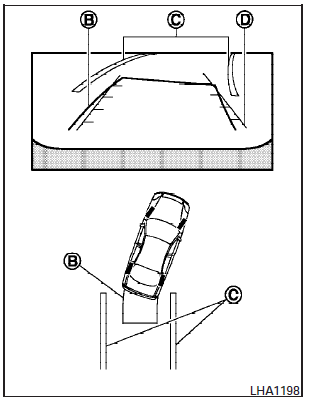 3. Slowly back up the vehicle adjusting the steering wheel so that the predicted course lines (B)- enter the parking space (C).
4. Maneuver the steering wheel to make the vehicle width guide lines (D)- parallel to the parking space (C)- while referring to the predicted course lines.
5. When the vehicle is parked in the space completely, move the shift selector to the P (Park) position and apply the parking brake.
See also:
Selecting the correct oil
It is essential to choose the correct grade, quality and viscosity engine oil to ensure satisfactory engine life and performance. See "Capacities and recommended fuel/lubricants" earlier in ...
Before starting the engine
- Make sure the area around the vehicle is clear. - Check fluid levels such as engine oil, coolant, brake fluid, and window washer fluid as frequently as possible, or at least whenever you re ...
Most common factors contributing to vehicle corrosion
● The accumulation of moisture-retaining dirt and debris in body panel sections, cavities, and other areas. ● Damage to paint and other protective coatings caused by gravel and stone c ...