Operating tips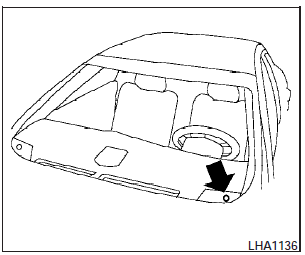 -When the engine coolant temperature and outside air temperature are low, the air flow from the foot outlets may not operate for a maximum of 150 seconds. However, this is not a malfunction. After the coolant temperature warms up, air flow from the foot outlets will operate normally.
The sunload sensor, located on the top drivers side of the instrument panel, helps the system maintain a constant temperature. Do not put anything on or around this sensor.
See also:
How to use the remote keyless entry function
The remote keyless entry function can operate all door locks using the remote keyless function of the Intelligent Key. The remote keyless function can operate at a distance of 33 ft (10 m) away ...
High fluid temperature protection mode
This transmission has a high fluid temperature protection mode. If the fluid temperature becomes too high (for example, when climbing steep grades in high temperature with heavy loads, such as ...
Compact disc (CD) player operation
If the radio is already operating, it automatically turns off and the compact disc begins to play. CD button: When the CD button is pressed with the system off and the compact disc loaded, the s ...