CD, DVD or USB with Compressed Audio Files (models with Navigation System)
The file types supported by this system are MP3, WMA, AAC/M4A and ATRAC3.
Explanation of terms:
- MP3 MP3 is short for Moving Pictures Experts Group Audio Layer 3. MP3 is the most well known compressed digital audio file format. This format allows for near CD quality sound, but at a fraction of the size of normal audio files. MP3 conversion of an audio track can reduce the file size by approximately 10:1 ratio (Sampling: 44.1 kHz, Bit rate: 128 kbps) with virtually no perceptible loss in quality. The compression reduces certain parts of sound that seem inaudible to most people.
- WMA Windows Media Audio (WMA) is a compressed audio format created by Microsoft as an alternative to MP3. The WMA codec offers greater file compression than the MP3 codec, enabling storage of more digital audio tracks in the same amount of space when compared to MP3s at the same level of quality.
- AAC/M4A Advanced Audio Coding (AAC) is a lossy audio compression format.
Audio files that have been encoded with AAC are generally smaller in size and deliver a higher quality of sound than MP3.
- ATRAC3, ATRAC3 Plus Adaptive Transform Acoustic Coding (ATRAC) is a lossy audio compression format developed by Sony.
- Bit rate Bit rate denotes the number of bits per second used by a digital music file.
The size and quality of a compressed digital audio file is determined by the bit rate used when encoding the file.
- Sampling frequency Sampling frequency is the rate at which the samples of a signal are converted from analog to digital (A/D conversion) per second.
- Multisession Multisession is one of the methods for writing data to media. Writing data once to the media is called a single session, and writing more than once is called a multisession.
- ID3/WMA Tag The ID3/WMA tag is the part of the encoded MP3 or WMA file that contains information about the digital music file such as song title, artist, album title, encoding bit rate, track time duration, etc.
ID3 tag information is displayed on the Album/Artist/Track title line on the display.
* WindowsT, Windows MediaT and Windows VistaT are registered trademarks or trademarks of Microsoft Corporation in the United States of America and/or other countries.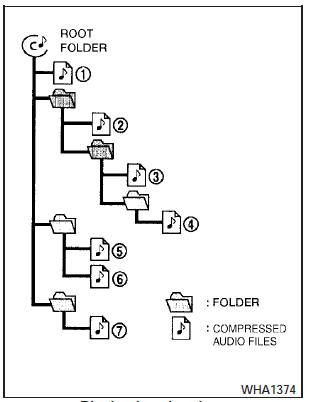 Playback order chart
Playback order:
Music playback order of a CD, DVD or USB device with compressed audio files is as illustrated.
- The folder names of folders not containing compressed audio files are not shown in the display.
- If there is a file in the top level of the disc/USB, Root Folder is displayed.
- The playback order is the order in which the files were written by the writing software, so the files might not play in the desired order.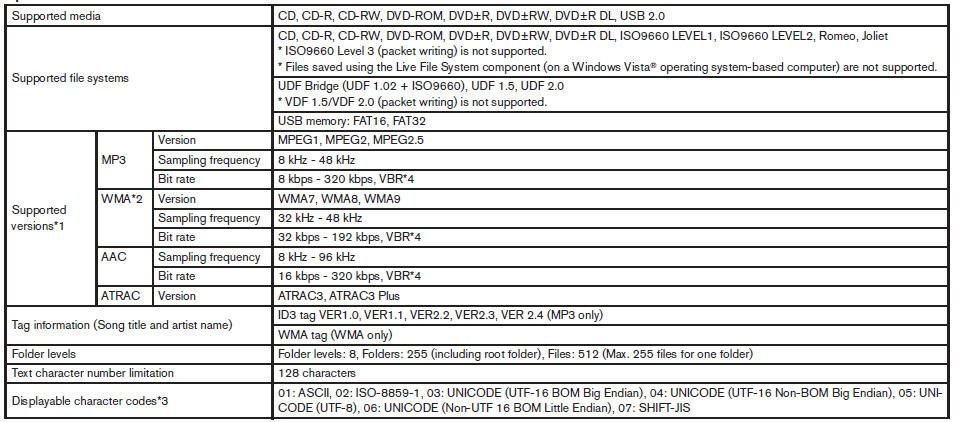 Specification chart
*1. Files created with a combination of 48 kHz sampling frequency and 64 kbps bit rate cannot be played.
*2. Protected WMA files (DRM) cannot be played.
*3. Available codes depend on what kind of media, versions and information are going to be displayed.
*4. When VBR files are played, the playback time may not be displayed correctly.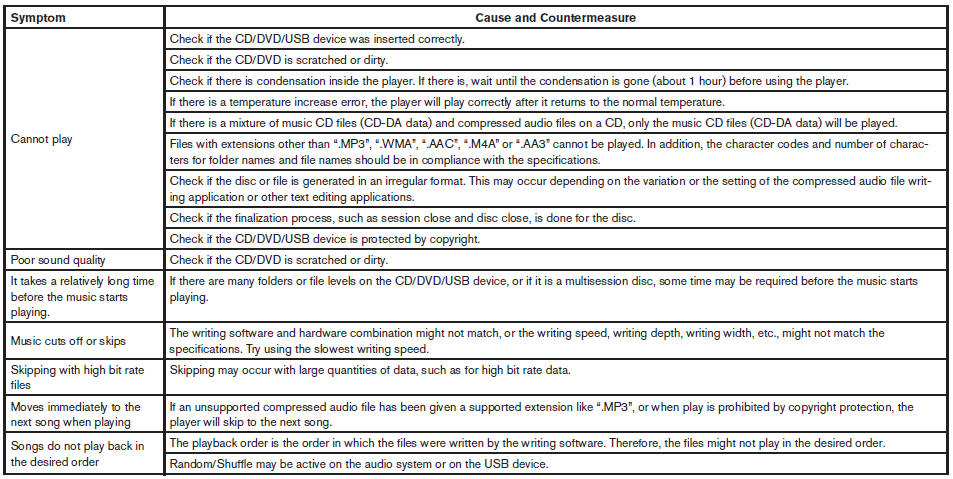 Troubleshooting guide:
See also:
Engine cooling system
The engine cooling system is filled at the factory with a pre-diluted mixture of 50% Genuine NISSAN Long Life Antifreeze/Coolant (blue) and 50% water to provide year-round anti-freeze and cool ...
Receiving a call
When you hear a phone ring, the display will change to phone mode. To receive a call, follow one of the procedures listed below. a. Select the "Answer" key on the display. b. Press the phone ...
Autolight system (if so equipped)
The autolight system allows the headlights to be set so they turn on and off automatically. The autolight system can: ● Turn on the headlights, front parking, tail, license plate and instr ...