Speaker Adaptation function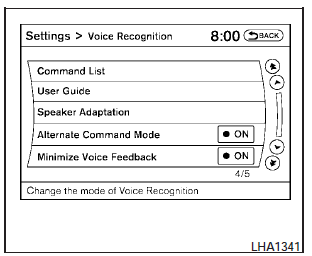 The Voice Recognition system has a function to learn the users voice for better voice recognition performance. The system can memorize the voices of up to three persons.
Having the system learn the users voice
1. Press the SETTING button on the instrument panel, select the Others key on the display.
2. Select the Voice Recognition key.
3. Select the Speaker Adaptation key.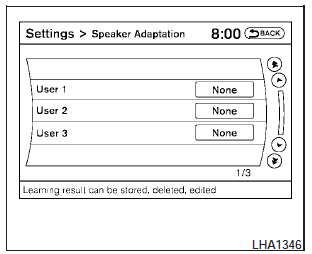 4. Select the user whose voice is to be memorized by the system.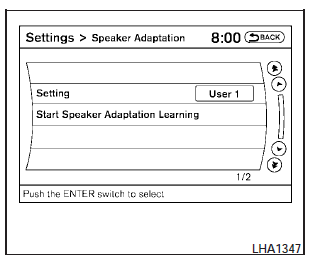 5. Select a category to be learned by the system from the following list:
- Phone.
- Navigation.
- Information.
- Audio.
- Help.
The voice commands in the category are displayed.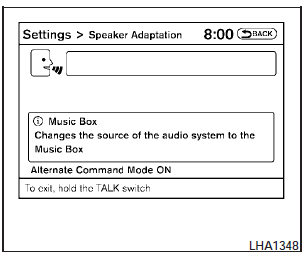 6. Select a voice command to train.
The Voice Recognition system starts.
7. The system requests that you repeat a command after a tone. This command is also displayed on the screen.
8. After the tone sounds and the icon on the screen changes from

, speak the command that the system requested.
9. When the system has recognized the voice command, the voice of the user is learned.

Speaker Adaptation function settings
Edit Name:
Edit the user name using the keypad displayed on the screen.
Reset Result:
Resets the users voice that the Voice Recognition system has learned.
Continuous Learning:
When this item is turned to ON, you can have the system learn the voice commands in succession, without selecting commands one by one.
See also:
NISSAN Intelligent Key™ With Door and Trunk
WARNING ● Radio waves could adversely affect electric medical equipment. Those who use a pacemaker should contact the electric medical equipment manufacturer for the possible influences bef ...
Hitch ball
Choose a hitch ball of the proper size and weight rating for your trailer: - The required hitch ball size is stamped on most trailer couplers. Most hitch balls also have the size printed on to ...
NISSAN vehicle immobilizer system
The NISSAN Vehicle Immobilizer System will not allow the engine to start without the use of a registered key. If the engine fails to start using a registered key (for example, when interference ...