Checking engine coolant level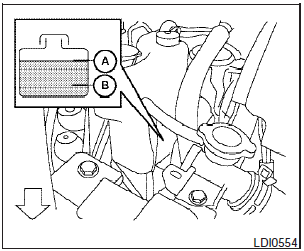 Check the coolant level in the reservoir when the engine is cold. If the coolant level is below the MIN level (B)- , add coolant to the MAX level (A) . If the reservoir is empty, check the coolant level in the radiator when the engine is cold. If there is insufficient coolant in the radiator, fill the radiator with coolant up to the filler opening and also add it to the reservoir up to the MAX level (A) .
If the cooling system frequently requires coolant, have it checked by a NISSAN dealer.
See also:
Checking tire pressure
1. Remove the valve stem cap from the tire. 2. Press the pressure gauge squarely onto the valve stem. Do not press too hard or force the valve stem sideways, or air will escape. If the hissing ...
Window washer fluid
Type A Type B Fill the window washer fluid reservoir periodically. Add window washer fluid when the low window washer fluid warning light illuminates (if so equipped). To fill the window w ...
Useful tips for correct operation
You can display useful speaking tips to help the system recognize your voice commands correctly. 1. Select "Help on Speaking". 2. You can confirm the page by scrolling the screen. ...