Exterior front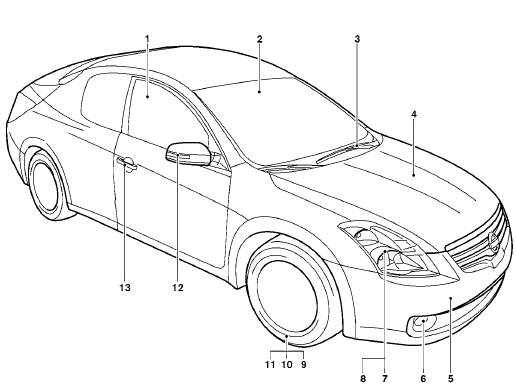 Coupe
1. Power windows (P. 2-43)
2. Windshield (P. 8-21)
3. Windshield wiper and washer switch (P. 2-28)
4. Engine hood (P. 3-23)
5. Tie down (P. 6-14)
6. Fog light switch (if so equipped) (P. 2-34)
7. Headlight and turn signal switch (P. 2-29)
8. Replacing bulbs (P. 8-29)
9. Tire pressure (P. 8-38)
10. Flat tire (P. 6-2)
11. Tire chains (P. 8-46)
12. Mirrors (P. 3-29)
13. Door locks, NISSAN Intelligent Key ™ , keys (P. 3-4, 3-6, 3-2)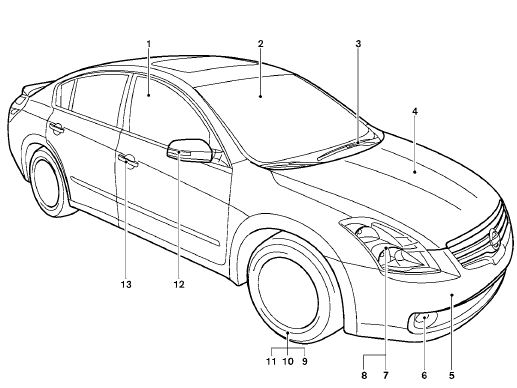 Sedan
1. Power windows (P. 2-43)
2. Windshield (P. 8-21)
3. Windshield wiper and washer switch (P. 2-28)
4. Engine hood (P. 3-23)
5. Tie down (P. 6-14)
6. Fog light switch (if so equipped) (P. 2-34)
7. Headlight and turn signal switch (P. 2-29)
8. Replacing bulbs (P. 8-29)
9. Tire pressure (P. 8-38)
10. Flat tire (P. 6-2)
11. Tire chains (P. 8-46)
12. Mirrors (P. 3-29)
13. Door locks, NISSAN Intelligent Key ™ , keys (P. 3-4, 3-6, 3-2)
See also:
NISSAN Intelligent Key
Replace the battery in the Intelligent Key as follows: 1. Remove the mechanical key from the Intelligent Key. 2. Insert a small screwdriver (A) into the slit (B)- of the corner and twist it to s ...
Inside mirror
Inside mirror Adjust the height and the angle of the inside mirror to the desired position. Manual anti-glare type The night position 1 will reduce glare from the headlights of vehicles beh ...
Operating tips
● When the shift selector is shifted to R (Reverse), the monitor screen automatically changes to the RearView Monitor mode. However, the radio can be heard. ● It may take some time u ...