Engine compartment check locations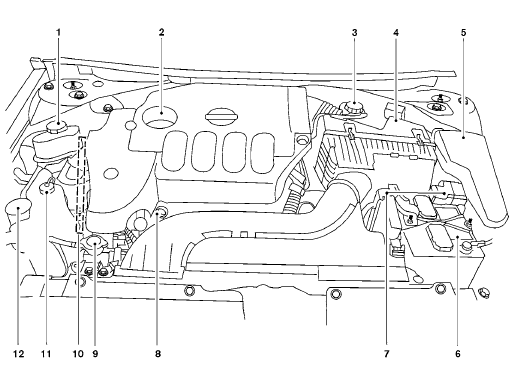 QR25DE engine
1. Power steering fluid reservoir (P. 8-14)
2. Engine oil filler cap (P. 8-10)
3. Brake fluid reservoir/Clutch fluid reservoir (M/T model) (P. 8-15, 8-15)
4. Air cleaner (P. 8-20)
5. Fuse block (P. 8-23)
6. Battery (P. 8-16)
7. Fuse/fusible link box (P. 8-23)
8. Engine oil dipstick (P. 8-10)
9. Radiator cap (P. 8-8)
10. Drive belt location (P. 8-18)
11. Engine coolant reservoir (P. 8-8)
12. Windshield-washer fluid reservoir (P. 8-15)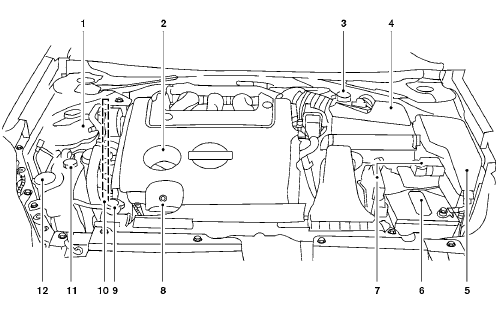 VQ35DE engine
1. Power steering fluid reservoir (P. 8-14)
2. Engine oil filler cap (P. 8-10)
3. Brake fluid reservoir/Clutch fluid reservoir (M/T model) (P. 8-15, 8-15)
4. Air cleaner (P. 8-20)
5. Fuse block (P. 8-23)
6. Battery (P. 8-16)
7. Fuse/fusible link box (P. 8-23)
8. Engine oil dipstick (P. 8-10)
9. Radiator cap (P. 8-8)
10. Drive belt location (P. 8-18)
11. Engine coolant reservoir (P. 8-8)
12. Windshield-washer fluid reservoir (P. 8-15)
See also:
IT'S THE LITTLE THINGS THAT COUNT
Storage Compartments (Puny, Fair, Ample, Galore): Fair Cargo/Trunk Space (Puny, Fair, Ample, Galore): Ample ...
Map lights
Map lights Push the light lens to turn the map light on or off. The map light control switch has three positions: ON 1 , DOOR 2 and OFF 3 . The light 4 (if so equipped) will illuminate when t ...
Anti-freeze
In the winter when it is anticipated that the outside temperature will drop below 328F (08C), check the anti-freeze to assure proper winter protection. For additional information, see "Engine ...