Folding rear seat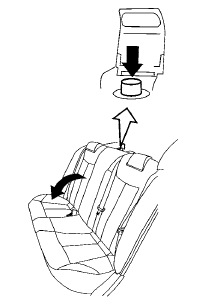 See also:
Three-way catalyst
The three-way catalyst is an emission control device installed in the exhaust system. Exhaust gases in the three-way catalyst are burned at high temperatures to help reduce pollutants. ` ...
Driving on snow or ice
WARNING: - Wet ice (32°F, 0°C and freezing rain), very cold snow or ice can be slick and very hard to drive on. The vehicle will have much less traction or grip under these conditions. Try ...
Car phone or CB radio
When installing a CB, ham radio or car phone in your NISSAN, be sure to observe the following precautions; otherwise, the new equipment may adversely affect the engine control system and other ele ...