Front-seat Active Head Restraints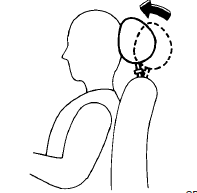 The Active Head Restraint moves forward utilizing the force that the seatback receives from the occupant in a rear-end collision. The movement of the head restraint helps support the occupant's head by reducing its backward movement and helping absorb some of the forces that may lead to whiplash-type injuries. Active Head Restraints are effective for collisions at low to medium speeds in which it is said that whiplash injury occurs most.
Active Head Restraints operate only in certain rear-end collisions. After the collision, the head restraints return to their original position. Adjust the Active Head Restraints properly as described in this section.
See also:
Vehicle information display
The vehicle information display 1 is located on the bottom of the speedometer. It displays such items as: ● Intelligent Key operation information ● some indicators and warnings ` ...
Features & Pricing
Starting at $30,690 for a 2010 Maxima and increasing to $30,810 for a 2011, the Maxima falls right between the Taurus ($25,170 to start, similarly equipped for $27,370) and Avalon ($32,445 to star ...
Hitch ball
Choose a hitch ball of the proper size and weight rating for your trailer. ● The required hitch ball size is stamped on most trailer couplers. Most hitch balls also have the size printed ...