Engine coolant temperature gauge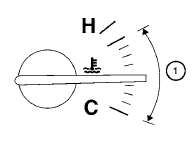 The gauge indicates the engine coolant temperature. The engine coolant temperature is within the normal range 1 when the gauge needle points within the zone shown in the illustration.
The engine coolant temperature varies with the outside air temperature and driving conditions.
CAUTION
If the gauge indicates coolant temperature near the hot (H) end of the normal range, reduce vehicle speed to decrease temperature. If the gauge is over the normal range, stop the vehicle as soon as safely possible. If the engine is overheated, continued operation of the vehicle may seriously damage the engine. See "If your vehicle overheats" in the "In case of emergency"section for immediate action required.
See also:
Removing wheel cover (if so equipped)
Never use your hands to remove the wheel cover. This may cause personal injury. To remove the wheel cover, use the jack rod 1 as illustrated. Apply cloth 2 between the wheel and jack rod ...
Seat belt maintenance
- To clean the seat belt webbing, apply a mild soap solution or any solution recommended for cleaning upholstery or carpets. Then wipe with a cloth and allow the seat belts to dry in the shade. ...
Clearing the programmed information
Individual buttons cannot be cleared, however to clear all programming, push and hold the two outside buttons and release when the indicator light begins to flash (in approximately 20 seconds) ...