Xenon headlights (if so equipped)
WARNING
HIGH VOLTAGE
● When xenon headlights are on, they produce a high voltage. To prevent an electric shock, never attempt to modify or disassemble. Always have your xenon headlights replaced at a NISSAN dealer.
● Xenon headlights provide considerably more light than conventional headlights. If they are not correctly aimed, they might temporarily blind an oncoming driver or the driver ahead of you and cause a serious accident. If headlights are not aimed correctly, immediately take your vehicle to a NISSAN dealer and have the headlights adjusted correctly.
When the xenon headlight is initially turned on, its brightness or color varies slightly. However, the color and brightness will soon stabilize.
● The life of xenon headlights will be shortened by frequent on-off operation. It is generally desirable not to turn off the headlights for short intervals (for example, when the vehicle stops at a traffic signal). Even when the daytime running lights are active (Canada only), the xenon headlights do not turn on. This way the life of the xenon headlights is not reduced.
● If the xenon headlight bulb is close to burning out, the brightness will drastically decrease, the light will start blinking, or the color of the light will become reddish. If one or more of the above signs appear, contact a NISSAN dealer.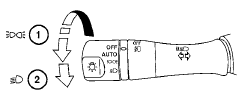 Type A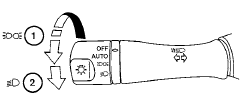 Type B
See also:
Checking the tire pressure
1. Remove the valve stem cap from the tire. 2. Press the pressure gauge squarely onto the valve stem. Do not press too hard or force the valve stem sideways, or air will escape. If the hiss ...
A "Casual Lounge" Interior
"The centrepiece of the new Cube's universal appeal is its surprisingly roomy interior that offers room for five in a lounge-like comfort. It creates a highly changeable space - for interacti ...
Anti-freeze
In the winter when it is anticipated that the temperature will drop below 32°F (0°C), check the anti-freeze to assure proper winter protection. For details, see "Engine cooling system" in t ...