Autolight system (if so equipped)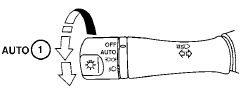 The autolight system allows the headlights to be set so they turn on and off automatically. The autolight system can:
● Turn on the headlights, front parking, tail, license plate and instrument panel lights automatically when it is dark.
● Turn off all the lights when it is light.
● Keep all the lights on for 45 seconds after you place the ignition switch in the OFF position and all doors are closed.
To turn on the autolight system:
1. Turn the headlight switch to the AUTO position 1 .
2. Push the push-button ignition switch to the ON position.
3. The autolight system automatically turns the headlights on and off.
Initially, if the ignition switch is placed in the OFF position and a door is opened and left open, the headlights remain ON for 5 minutes. If another door is opened during the 5 minutes, then the 5 minute timer is reset.
To turn the autolight system off, turn the switch to the OFF

,

or position.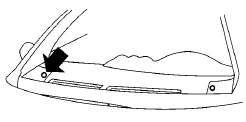 Be sure you do not put anything on top of the autolight sensor located on the top side of the instrument panel. The autolight sensor controls the autolight; if it is covered, the autolight sensor reacts as if it is dark out and the headlights will illuminate. If this occurs while parked with the engine off and the ignition switch placed in the ON position, your vehicle's battery could become discharged.
See also:
Automatic door locks
- All doors lock automatically when the vehicle speed reaches 15 MPH (24 km/h). - All doors unlock automatically when the ignition switch is placed in the OFF position. The automatic unlock func ...
When traveling or registering your vehicle in another country
When planning to drive your NISSAN vehicle in another country, you should first find out if the fuel available is suitable for your vehicle's engine. Using fuel with an octane rating that is too ...
Off-road recovery
If the right side or left side wheels unintentionally leave the road surface, maintain control of the vehicle by following the procedure below. Please note that this procedure is only a general ...