Unlocking doors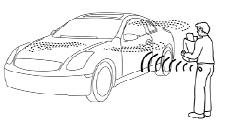 Coupe shown, Sedan similar
1. Carry the Intelligent Key.
2. Push the door handle request switch 1 .
3. The hazard warning lights flash once and the outside buzzer sounds once.
4. Push the door handle request switch 1 again within 5 seconds to unlock all doors.
If a door handle is pulled while unlocking the doors, that door may not be unlocked. Returning the door handle to its original position will unlock the door. If the door does not unlock after returning the door handle, push the door handle request switch to unlock the door.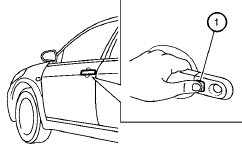 All doors will be locked automatically unless one of the following operations is performed within 1 minute after pushing the request switch.
● Opening any door.
● Pushing the ignition switch.
The interior light timer illuminates for 30 seconds when a door is unlocked and the room light switch is in the DOOR position.
The interior light can be turned off without waiting for 30 seconds by performing one of the following operations.
● Placing the ignition switch in the ON position.
● Locking the doors with the remote controller.
● Switching the room light switch to the OFF position.
See also:
Installing front license plate
Use the following steps to mount the front license plate. 1 Slide the metal mounting clips onto the license plate holder as indicated. 2 Attach the license plate bracket on the plastic finis ...
To protect your vehicle from corrosion
● Wash and wax your vehicle often to keep the vehicle clean. ● Always check for minor damage to the paint and repair it as soon as possible. ● Keep drain holes at the bottom of ...
NISSAN Intelligent Key Operation
You can lock or unlock the doors without taking the Intelligent Key out of your pocket or bag. When you carry the Intelligent Key with you, you can lock or unlock all doors by pushing the door ...