Touch screen operation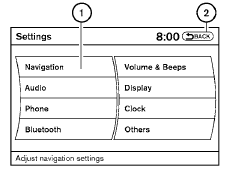 Selecting the item:
Touch an item to select. To select the "Navigation" key, touch the "Navigation" key 1 on the screen. Touch the "BACK"key 2 to return to the previous screen.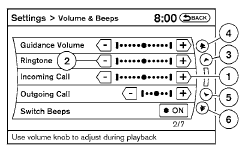 Adjusting the item:
Touch the "+" key 1 or the " " key 2 to adjust the settings of an item.
Touch the up arrow 3 to scroll up the page one item at a time, or touch the double up arrow 4 to scroll up an entire page.
Touch the down arrow 5 to scroll down the page one item at a time, or touch the double down arrow 6 to scroll down an entire page.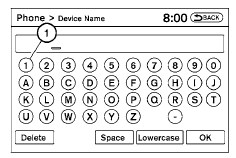 Inputting characters:
Touch the letter or number key 1 .
There are some options available when inputting characters.
● Uppercase:
Shows uppercase characters.
● Lowercase:
Shows lowercase characters.
● Space:
Inserts a space.
● Delete:
Deletes the last inputted character with one touch. Touch and hold the "Delete" key to delete all of the characters.
● OK:
Completes the character input.
Touch screen maintenance
If you clean the display screen, use a dry, soft cloth. If additional cleaning is necessary, use a small amount of neutral detergent with a soft cloth. Never spray the screen with water or detergent. Dampen the cloth first, and then wipe the screen.
See also:
Cancel switch
When the switch, located inside the glove box, is in the OFF position, the power to the trunk lid will be cancelled. The trunk can only be opened with the master key or keyfob. The trunk lid can ...
Event Data Recorders (EDR)
This vehicle is equipped with an Event Data Recorder (EDR). The main purpose of an EDR is to record, in certain crash or near crash-like situations, such as an air bag deployment or hitting a ...
Air conditioner operation
Start the engine, turn the fan control dial to the desired position, and push in the button to activate the air conditioner. When the air conditioner is on, cooling and dehumidifying functions are ...