CD/DVD combination player (models with Navigation System)
● Do not force a disc into the CD/DVD insert slot. This could damage the CD/DVD player.
● During cold weather or rainy days, the player may malfunction due to the humidity. If this occurs, remove the CD/DVD and dehumidify or ventilate the player completely.
● The player may skip while driving on rough roads.
● The CD/DVD player sometimes cannot function when the passenger compartment temperature is extremely high. Decrease the temperature before use.
● Only use high quality 4.7 in (12 cm) round discs that have the "COMPACT disc DIGITAL AUDIO" or "DVD Video" logo on the disc or packaging.
● Do not expose the CD/DVD to direct sunlight.
● CDs/DVDs that are of poor quality, dirty, scratched, covered with fingerprints, or that have pinholes may not work properly.
● The following CDs/DVDs are not guaranteed to play:
● Copy control compact discs (CCCD)
● Recordable compact discs (CD-R)
● Rewritable compact discs (CD-RW)
● Recordable compact discs (DVD±R, DVD±R DL)
● Rewritable compact discs (DVD±RW, DVD±RW DL)
● Do not use the following CDs/DVDs as they may cause the CD/DVD player to malfunction.
● 3.1 in (8 cm) discs
● CDs/DVDs that are not round
● CDs/DVDs with a paper label
● CDs/DVDs that are warped, scratched, or have abnormal edges
● This audio system can only play prerecorded CDs/DVDs. It has no capabilities to record or burn CDs/DVDs.
● If the CD/DVD cannot be played, one of the following messages will be displayed. Disc Read Error:
● Confirm that the CD/DVD is inserted correctly (the label side is facing up, etc.).
● Confirm that the CD/DVD is not bent or warped and it is free of scratches.
Please Eject Disc:
This error may be due to the temperature inside the player getting too high. Remove the CD/DVD by pushing the EJECT button, and after a short time reinsert the CD/DVD. The CD/DVD can be played when the temperature of the player returns to normal. If the error persists, consult your local dealership. Unplayable File:
● The file may be copy protected.
● The file is not MP3, WMA, AAC, M4A or DIVX type.
Region Invalid
● The DVD is not for region 1 or all regions.
● Use DVDs with a region code "1", "ALL" or "1 included" for your DVD entertainment system. (The region code A is displayed as a small symbol printed on the top of the DVD B .) This vehicle-installed DVD player cannot play DVDs with a region code other than "1" or "ALL".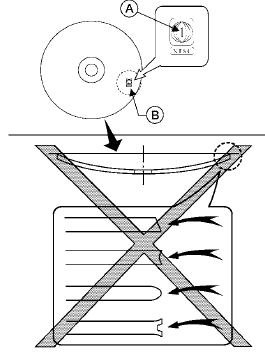 Copyright and trademark
● The technology protected by the U.S. patent and other intellectual property rights owned by Macrovision Corporation and other right holders is adopted for this system.
● This copyright protected technology cannot be used without a permit from Macrovision Corporation. It is limited to personal use, etc., as long as the permit from Macrovision Corporation is not issued.
● Modifying or disassembling is prohibited.
● Dolby digital is manufactured under license from Dolby Laboratories, Inc.
● Dolby and the double D mark " " are trademarks of Dolby Laboratories, Inc.
● DTS and DTS Digital Surround " " are registered trademarks of Digital Theater Systems, Inc.
See also:
Operating tips
- When the selector lever is shifted to the R (Reverse) position, the monitor screen automatically changes to the RearView Monitor mode. However, the radio can be heard. - It may take some time ...
Air recirculation
Push the air recirculation button to recirculate interior air inside the vehicle. The indicator light on the switch will come on. The air recirculation button will not be activated when the air ...
2010 Nissan Cube review
The Cube - which is a "mobile device," not a car, Nissan says, returns for 2010 with a base price of $13,999 (plus $720 freight), which is just $9 more than the 2009 starting price. Fo ...