Displaying user guide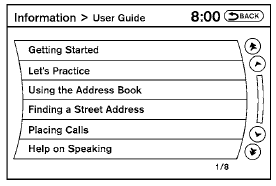 You can confirm how to use voice commands by accessing a simplified User Guide, which contains basic instructions and tutorials for several voice commands.
1. Press the INFO button on the instrument panel.
2. Select the "Voice Recognition" key.
3. Select the "User Guide" key.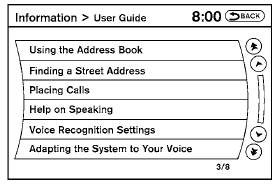 4. Select an item.
Available items:
● Getting Started
Describes the basics of how to operate the Voice Recognition system.
● Let's Practice
Initiates a practice session that demonstrates how to improve recognition by the system.
● Using the Address Book
Tutorial for using the Address Book.
● Finding a Street Address
Tutorial for Finding a Street Address.
● Placing Calls
Tutorial for making a phone call by voice command operation.
● Help on Speaking
Displays useful tips for how to correctly speak commands in order for them to be properly recognized by the system.
● Voice Recognition Settings Describes the available Voice Recognition settings.
● Adapting the System to Your Voice Tutorial for adapting the system to your voice.
See also:
Trailer towing tips
In order to gain skill and an understanding of the vehicle's behavior, you should practice turning, stopping and backing up in an area which is free from traffic. Steering stability and braking p ...
Steering wheel switch for audio control (if so equipped)
Steering wheel switch for audio control (if so equipped) 1. Tuning switch 2. VOLUME control switch 3. SOURCE select switch ...
Air conditioner operation
The air conditioner system should be operated for approximately 10 minutes at least once a month. This helps prevent damage to the air conditioner system due to the lack of lubrication. Cooling ...