Displaying user guide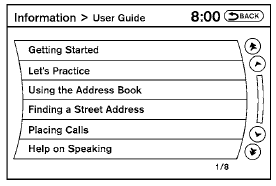 You can confirm how to use voice commands by accessing a simplified User Guide, which contains basic instructions and tutorials for several voice commands.
1. Press the INFO button on the instrument panel.
2. Select the "Voice Recognition" key.
3. Select the "User Guide" key.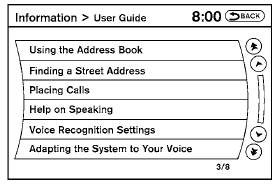 4. Select an item.
Available items:
● Getting Started
Describes the basics of how to operate the Voice Recognition system.
● Let's Practice
Initiates a practice session that demonstrates how to improve recognition by the system.
● Using the Address Book
Tutorial for using the Address Book.
● Finding a Street Address
Tutorial for Finding a Street Address.
● Placing Calls
Tutorial for making a phone call by voice command operation.
● Help on Speaking
Displays useful tips for how to correctly speak commands in order for them to be properly recognized by the system.
● Voice Recognition Settings Describes the available Voice Recognition settings.
● Adapting the System to Your Voice Tutorial for adapting the system to your voice.
See also:
EXTERIOR
The 2010 Pathfinder is unapologetically boxy. It could have been built with giant Duplo blocks. However, it's not bad-looking. It's tough, strong and doesn't fool around. This is a truck that mean ...
Valet hand-off
When you have to leave a key with a valet, give them the Intelligent Key itself and keep the mechanical key with you to protect your belongings. To prevent the glove box and the trunk from being o ...
Maximum trailer loads
Never allow the total trailer load to exceed the value specified in the "Towing Load/Specification" chart found later in this section. The total trailer load equals trailer weight plus its car ...