Speaker Adaptation function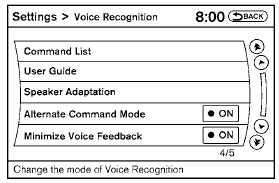 The Voice Recognition system has a function to learn the user's voice for better voice recognition performance. The system can memorize the voices of up to three persons.
See also:
Air flow control dial
The air flow control dial allows you to select the air flow outlets. — Air flows from center and side vents with maximum cooling (air conditioning if so equipped). — Air flows from c ...
Manual Transmission (if so equipped)
● Always tow with the manual transmission in Neutral. ● After towing 500 miles (805 km), start and idle the engine with the transmission in Neutral for two minutes. Failure to idle the ...
Increasing fuel economy
● Accelerate slowly and smoothly. Maintain cruising speeds with a constant accelerator position. ● Drive at moderate speeds on the highway. Driving at high speed lowers fuel economy. ...