Having the system learn the user's voice
1. Press the SETTING button on the instrument panel, select the "Others" key on the display.
2. Select the "Voice Recognition" key.
3. Select the "Speaker Adaptation" key.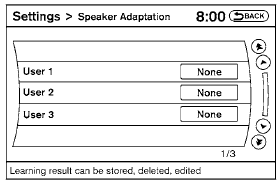 4. Select the user whose voice is to be memorized by the system.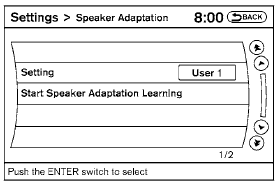 5. Select a category to be learned by the system from the following list:
● Phone
● Navigation
● Information
● Audio
● Help
The voice commands in the category are displayed.
6. Select a voice command to train.
The Voice Recognition system starts.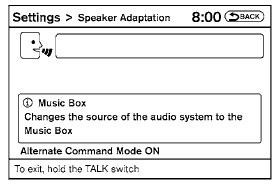 7. The system requests that you repeat a command after a tone. This command is also displayed on the screen.
8. After the tone sounds and the icon on the screen changes from

to

, speak the command that the system requested.
9. When the system has recognized the voice command, the voice of the user is learned.
Press the

switch or select the "Back" key to return to the previous screen.
If the system has learned the command correctly, the voice command indicator on the screen turns on.
See also:
"Phonebook" (phones with automatic phonebook download function)
NOTE: The "Transfer Entry" command is not available when the vehicle is moving. For phones that support automatic download of the phonebook (PBAP Bluetooth profile), the "Phonebook" com ...
Utility hook
Utility hook To use the utility hook on the seatback, pull it. - Do not apply a total load of more than 6 lb (3 kg) to the hook. - Do not use the utility hook to pull the seatback to the ...
Locking with power door lock switch
Locking with power door lock switch Operating the power door lock switch will lock or unlock all the doors. The switches are located on the driver's and front passenger's door armrests. ...