Starting the vehicle
1. After starting the engine, fully depress the foot brake pedal before moving the shift selector out of the P (Park) position.
2. Keep the foot brake pedal depressed and move the shift selector into a driving gear.
3. Release the foot brake, then gradually start the vehicle in motion.
4. Stop the vehicle completely before shifting the shift selector to the P (Park) position. The CVT is designed so the foot brake pedal MUST be depressed before shifting from P (Park) to any drive position while the ignition switch is in the ON position. The shift selector cannot be moved out of P (Park) and into any of the other gear positions if the ignition switch is pushed to the LOCK position.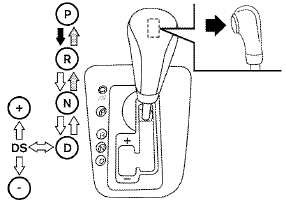 To move the shift selector:

Press the button while depressing the brake pedal

Press the button to shift

Shift without pressing button
See also:
Pre-towing tips
● Be certain your vehicle maintains a level position when a loaded and/or unloaded trailer is hitched. Do not drive the vehicle if it has an abnormal nose-up or nose-down condition; check fo ...
Tire dressings
NISSAN does not recommend the use of tire dressings. Tire manufacturers apply a coating to the tires to help reduce discoloration of the rubber. If a tire dressing is applied to the tires, it may ...
Front and rear view
Guiding lines, which indicate the vehicle width and distances to objects with reference to the vehicle body line A , are displayed on the monitor. Distance guide lines: Indicate distances from ...