Shifting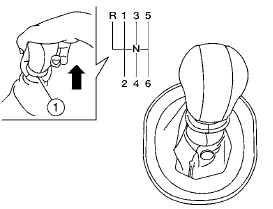 To change gears or when upshifting or downshifting, depress the clutch pedal fully, shift into the appropriate gear, then release the clutch slowly and smoothly.
To ensure smooth gear changes, fully depress the clutch pedal before operating the shift selector. If the clutch pedal is not fully depressed before the transmission is shifted, a gear noise may be heard. Transmission damage may occur.
Start the vehicle in 1st gear and shift to 2nd, 3rd, 4th and 5th up to 6th gear in sequence according to vehicle speed.
To back up, lift up on the shift selector ring 1 and then move it to the R (Reverse) position after stopping the vehicle completely.
The shift selector ring 1 returns to its original position when the shift selector is moved to the N (Neutral) position.
If it is difficult to move the shift selector into R (Reverse) or 1 (1st), shift into N (Neutral), then release the clutch pedal. Depress the clutch pedal again and shift into R (Reverse) or 1 (1st).
See also:
Indicator lights
For additional information on warnings and indicators, see "Vehicle information display" later in this section. ...
Difference between predicted and actual distances
The distance guide line and the vehicle width guide line should be used as a reference only when the vehicle is on a level, paved surface. The distance viewed on the monitor is for reference o ...
Child safety
Children need adults to help protect them. They need to be properly restrained. In addition to the general information in this manual, child safety information is available from many other sourc ...