Checking engine oil level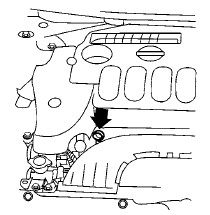 QR25DE engine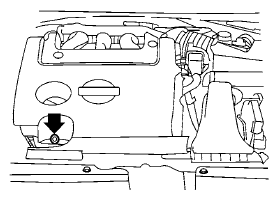 VQ35DE engine

1. Park the vehicle on a level surface and apply the parking brake.
2. Start the engine and let it idle until it reaches operating temperature.
3. Turn off the engine. Wait more than 10 minutes for the oil to drain back into the oil pan.
4. Remove the dipstick and wipe it clean. Reinsert it all the way.
5. Remove the dipstick again and check the oil level. It should be between the H (High) and L (Low) marks B . This is the normal operating oil level range. If the oil level is below the L (Low) mark A , remove the oil filler cap and pour recommended oil through the opening. Do not overfill C .
6. Recheck oil level with the dipstick.
It is normal to add some oil between oil maintenance intervals or during the break-in period, depending on the severity of operating conditions.
CAUTION
Oil level should be checked regularly. Operating the engine with an insufficient amount of oil can damage the engine, and such damage is not covered by warranty.
See also:
How to use the INFO button
Press the INFO button; the display screen shows vehicle and navigation information for your convenience. The information shown on the screen should be a guide to determine the condition of the ...
2011 Nissan Altima review
I had five hours to think. That's how long it took to drive seven miles from downtown Washington to my home in Northern Virginia. The culprit was a fast, fierce winter storm. It struck at the begi ...
Fuel recommendation
NISSAN recommends the use of premium unleaded gasoline with an octane rating of at least 91 AKI (Anti-Knock Index) number (Research octane number 96). If unleaded premium gasoline is not avail ...