Turn signal switch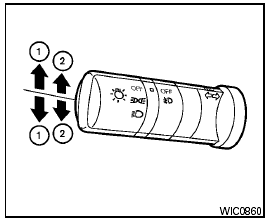 Turn signal switch
Turn signal
1 Move the lever up or down to signal the turning direction. When the turn is completed, the turn signals cancel automatically.
Lane change signal
2 To signal a lane change, move the lever up or down to the point where the indicator light begins to flash, but the lever does not latch.
See also:
Too High to Handle
The numbers quantify the Spec V's main disappointments, but there was something fundamentally wrong with the driving experience, and after days and miles I finally concluded that the car is just t ...
Programming HomeLink for Canadian customers
Prior to 1992, D.O.C. regulations required handheld transmitters to stop transmitting after 2 seconds. To program your hand-held transmitter to HomeLink , continue to press and hold the HomeLink b ...
How to speak numbers
Voice Recognition requires a certain way to speak numbers when giving voice commands. Refer to the following examples. General rule: ● Only single digits 0 (zero) to 9 can be used. ● ...