CD care and cleaning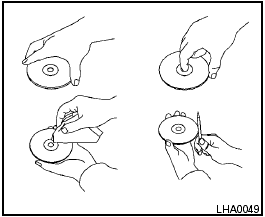 CD care and cleaning
● Handle a CD by its edges. Do not bend the disc. Never touch the surface of the disc.
● Always place the discs in the storage case when they are not being used.
● To clean a disc, wipe the surface from the center to the outer edge using a clean, soft cloth. Do not wipe the disc using a circular motion.
● Do not use a conventional record cleaner or alcohol intended for industrial use.
● A new disc may be rough on the inner and outer edges. Remove the rough edges by rubbing the inner and outer edges with the side of a pen or pencil as illustrated.
See also:
Supplemental air bag warning labels
Warning labels about the supplemental frontimpact air bag system are placed in the vehicle as shown in the illustration. ...
Car phone or CB radio
When installing a CB, ham radio or car phone in your NISSAN, be sure to observe the following precautions; otherwise, the new equipment may adversely affect the engine control system and other ...
Precautions on supplemental restraint system
This Supplemental Restraint System (SRS) section contains important information concerning the following systems: ● Driver and passenger supplemental frontimpact air bag (NISSAN Advanced Air ...