Front-side view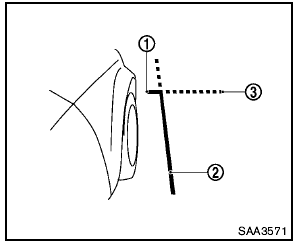 Front-side view
Guiding lines:
Guiding lines that indicate the width and the front end of the vehicle are displayed on the monitor.
The front-of-vehicle line 1 shows the front part of the vehicle.
The side-of-vehicle line 2 shows the vehicle width including the outside mirror.
The extensions 3 of both the front 1 and side 2 lines are shown with a green dotted line.

- There is a plastic cover over the camera. Do not scratch the cover when cleaning dirt or snow from the cover.
- The turn signal light may overlap with the side-of-vehicle line. This is not a malfunction.
See also:
Small children
Children that are over one year old and weigh at least 20 lbs (9 kg) can be placed in a forwardfacing child restraint. Refer to the manufacturers instructions for minimum and maximum weight an ...
Speedometer
The speedometer 1 indicates vehicle speed in miles per hour (MPH) and kilometers per hour (km/h). ...
Programming trouble-diagnosis
If HomeLinkВ® does not quickly learn the handheld transmitter information: - replace the hand-held transmitter batteries with new batteries. - position the hand-held transmitter with its batt ...