Moving to a steep downhill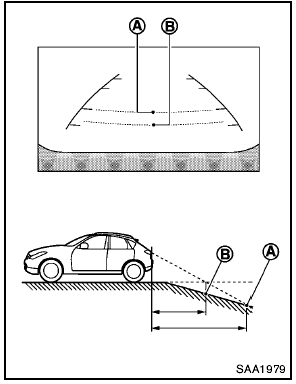 Moving to a steep downhill
When moving the vehicle down a hill, the distance guide lines and the vehicle width guide lines are shown further than the actual distance.
For example, the display shows 3 ft (1 m) to the place A , but the actual 3 ft (1 m) distance on the hill is the place B . Note that any object on the hill is viewed in the monitor closer than it appears.
See also:
Touch screen maintenance
If you clean the display screen, use a dry, soft cloth. If additional cleaning is necessary, use a small amount of neutral detergent with a soft cloth. Never spray the screen with water or deter ...
Safety
The Maxima failed to impress me when it came to its Latch connectors and child-safety-seat fit. The backseat has bolsters that interfered with the fit of my sons' booster seats. The result? The bo ...
SAFETY
For the kids, the Juke was fun, too. They loved the way it looked, but there was a problem with the seat belts. The buckles were too buried in the seat cushions to make them easy to use for my 6- ...