Installing front license plate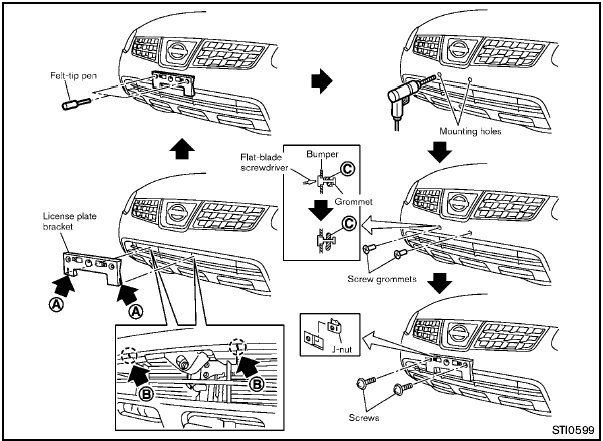 Use the following steps to mount the license plate:
Before mounting the license plate, confirm that the following parts are enclosed in the plastic bag.
- License plate bracket
- J-nut 6 2
- Screw 6 2
- Screw grommet 6 2
1. Temporarily place the license plate bracket by aligning the lower part A of it with the lines B on the bumper.
2. Mark the pilot hole points with a felt-tip pen through the holes of the license plate bracket.
3. Remove the license plate bracket.
4. Carefully drill two pilot holes using a 0.39 in (10 mm) drill bit at the marked locations. (Be sure that the drill only goes through the fascia, or damage to the nut may occur.)
5. Insert grommets into the hole on the fascia.
6. Insert a flat-blade screwdriver into the grommet hole to add 908 turn onto the part C .
7. Insert a J-nut into the license plate bracket before placing the license plate bracket on the fascia.
8. Install the license plate bracket with screws.
9. Install the license plate with bolts that are no longer than 0.55 in (14 mm).
See also:
Freeing a frozen door lock
To prevent a door lock from freezing, apply deicer through the key hole. If the lock becomes frozen, heat the key before inserting it into the key hole, or use the remote keyless entry keyfob (i ...
Setting hazard indicator and horn mode
This vehicle is set in hazard indicator and horn mode when you first receive the vehicle. In hazard indicator and horn mode, when the LOCK button 1 is pushed, the hazard indicator flashes tw ...
Hood
Hood 1. Pull the hood lock release handle 1 located below the instrument panel until the hood springs up slightly. 2. Locate the lever 2 in between the hood and grille and push the lever sid ...