Ending a call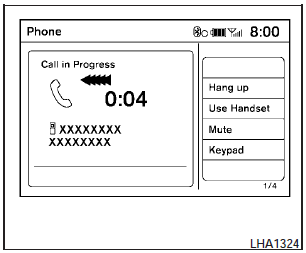 To finish the call, perform one of the following procedures:
- Select the Hang up key on the Call in Progress display.
- Push the

switch on the steering wheel.
- When the Call in Progress screen is displayed, press the PHONE button on the instrument panel to hang up. If any other screen is currently displayed, press the PHONE button to display the Call in Progress screen first, then press the PHONE button again to hang up.
See also:
Self-test feature
The ABS includes electronic sensors, electric pumps, hydraulic solenoids and a computer. The computer has a built-in diagnostic feature that tests the system each time you start the engine and ...
Event Data Recorders (EDR)
This vehicle is equipped with an Event Data Recorder (EDR). The main purpose of an EDR is to record, in certain crash or near crash-like situations, such as an air bag deployment or hitting a ...
Precautions on cruise control
-If the cruise control system malfunctions, it cancels automatically. WARNING: Do not use the cruise control when driving under the following conditions: - When it is not possible to keep the ...