Unlocking doors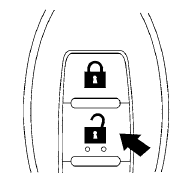 1. Press the

button on the Intelligent Key.
2. The hazard warning lights flash once.
3. Press the

button again within 5 seconds to unlock all doors.
All doors will be locked automatically unless one of the following operations is performed within 1 minute after pressing the

button:
● Opening any doors.
● Pushing the ignition switch.
The interior light illuminates for 15 seconds when a door is unlocked and the room light switch is in the DOOR position.
The light can be turned off without waiting for 15 seconds by performing one of the following operations:
● Placing the ignition switch in the ON position.
● Locking the doors with the Intelligent Key.
● Switching the room light switch to the OFF position.
See also:
Increasing fuel economy
GUID-08316153-E8EB-4B1D-A83C-780DAE9E7643 - Accelerate slowly and smoothly. Maintain cruising speeds with a constant accelerator position. - Drive at moderate speeds on the highway. Driving at ...
Freeing a frozen door lock
To prevent a door lock from freezing, apply deicer through the key hole. If the lock becomes frozen, heat the key before inserting it into the key hole, or use the remote keyless entry keyfob (i ...
AM radio reception
AM signals, because of their low frequency, can bend around objects and skip along the ground. In addition, the signals can be bounced off the ionosphere and bent back to earth. Because of thes ...