Backing up on a steep downhill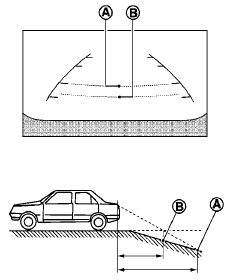 When backing up the vehicle down a hill, the distance guide lines and the vehicle width guide lines are shown farther than the actual distance. For example, the display shows 3 ft (1.0 m) to the place A , but the actual 3 ft (1.0 m) distance on the hill is the place B . Note that any object on the hill is closer than it appears on the monitor.
See also:
Towing a trailer
WARNING: Overloading or improper loading of a trailer and its cargo can adversely affect vehicle handling, braking and performance and may lead to accidents. CAUTION: - Do not tow a trailer o ...
Power windows
WARNING: - Make sure that all passengers have their hands, etc. inside the vehicle while it is in motion and before closing the windows. Use the window lock switch to prevent unexpected use o ...
Headlight beam select
1 To select the high beam function, push the lever forward. The high beam lights come on and the light illuminates. 2 Pull the lever back to select the low beam. 3 Pulling and releasing the lev ...