Checking tire pressure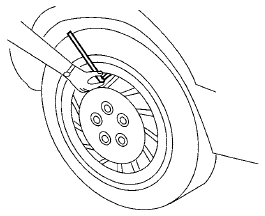 1. Remove the valve stem cap from the tire.
2. Press the pressure gauge squarely onto the valve stem. Do not press too hard or force the valve stem sideways, or air will escape. If the hissing sound of air escaping from the tire is heard while checking the pressure, reposition the gauge to eliminate this leakage.
3. Remove the gauge.
4. Read the tire pressure on the gauge stem and compare to the specification shown on the Tire and Loading Information label.
5. Add air to the tire as needed. If too much air is added, press the core of the valve stem briefly with the tip of the gauge stem to release pressure. Recheck the pressure and add or release air as needed.
6. Install the valve stem cap.
7. Check the pressure of all other tires, including the spare.

See also:
How to arm the vehicle security system
1. Close all windows. (The system can be armed even if the windows are open.) 2. Remove the Intelligent Key from the vehicle. 3. Close all doors, hood and trunk. Lock all doors. The doors can be l ...
Rear power window switch (sedan only)
The rear power window switches open or close only the corresponding windows. To open the window, push the switch and hold it down 1 . To close the window, pull the switch up 2 . ...
Exterior
Nissan says the Murano's wraparound surface construction features a sloping hood line and a steeply raked windshield. Each wheel is pushed out toward the corners for a long wheelbase and wide st ...