Checking tire pressure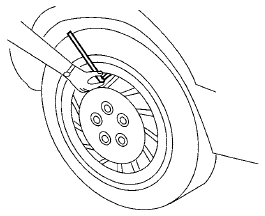 1. Remove the valve stem cap from the tire.
2. Press the pressure gauge squarely onto the valve stem. Do not press too hard or force the valve stem sideways, or air will escape. If the hissing sound of air escaping from the tire is heard while checking the pressure, reposition the gauge to eliminate this leakage.
3. Remove the gauge.
4. Read the tire pressure on the gauge stem and compare to the specification shown on the Tire and Loading Information label.
5. Add air to the tire as needed. If too much air is added, press the core of the valve stem briefly with the tip of the gauge stem to release pressure. Recheck the pressure and add or release air as needed.
6. Install the valve stem cap.
7. Check the pressure of all other tires, including the spare.

See also:
Electric power steering system
- If the engine is not running or is turned off while driving, the power assist for the steering will not work. Steering will be harder to operate. - When the electric power steering warni ...
Small When You Need It, Big Where You Want It
Knowing that entry-level vehicles are used as "workhorses" - for commuting on weekdays, errand running on weekends and transporting family and friends all week long - the designers of th ...
Top tether anchor point locations
Top tether anchor point locations Anchor points are located on the floor behind the outboard and center seating positions. The child restraint top tether strap must be used when installing chi ...