Engine coolant temperature gauge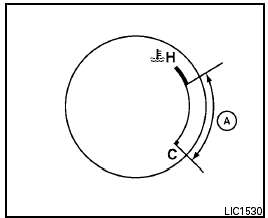 Engine coolant temperature gauge
NOTE:
The ignition switch must be placed in the ON position for the gauge to give a reading.
The gauge indicates the engine coolant temperature.
The engine coolant temperature is within the normal range when the reading is within the zone A shown in the illustration.
The engine coolant temperature varies with the outside air temperature and driving conditions.

If the gauge indicates a coolant temperature near the hot (H) end of the normal range, reduce vehicle speed to decrease the temperature. If the gauge is over the normal range, stop the vehicle as soon as safely possible. If the engine is overheated, continued operation of the vehicle may seriously damage the engine.
See "If your vehicle overheats" in the "In case of emergency"section for immediate action required
See also:
Making a call
To make a call, follow the procedure below: 1. Press the PHONE button on the instrument panel or the switch on the steering wheel. The Phone screen will appear on the display. 2. Select on ...
Emission control information label
The emission control information label is attached to the underside of the hood as shown. ...
Fuel gauge
The gauge A indicates the approximate fuel level in the tank. The gauge may move slightly during braking, turning, acceleration, or going up or down hills. Refill the fuel tank before the gaug ...