Headlight control switch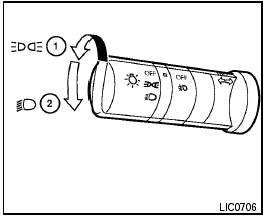 Type A
Lighting
1 When turning the switch to the

position, the front parking, tail, license plate and instrument panel lights come on.
2 When turning the switch to the

position, the headlights come on and all the other lights remain on.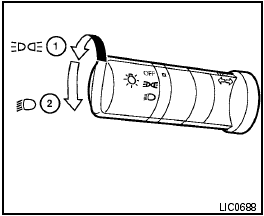 Type B

Use the headlights with the engine running to avoid discharging the vehicle battery.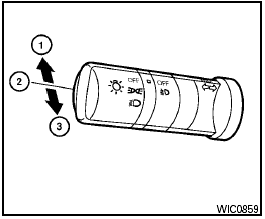 Headlight beam select
1 To select the high beam function, push the lever forward. The high beam lights come on and the

light illuminates.
2 Pull the lever back to select the low beam.
3 Pulling and releasing the lever flashes the headlight high beams on and off.
Battery saver system
If the ignition switch is placed in the OFF position while the headlight switch is in the

or

position, the headlights will turn off after 5 minutes.

Even though the battery saver feature automatically turns off the headlights after a period of time, you should turn the headlight switch to the OFF position when the engine is not running to avoid discharging the vehicle battery.
See also:
Operating tips
● When the engine coolant temperature and outside air temperature are low, the air flow from the foot outlets may not operate for a maximum of 150 seconds. However, this is not a malfunction ...
When traveling or registering your vehicle in another country
When planning to drive your NISSAN vehicle in another country, you should first find out if the fuel available is suitable for your vehicle's engine. Using fuel with an octane rating that is too ...
Summer tires
NISSAN specifies summer tires on some models to provide superior performance on dry roads. Summer tire performance is substantially reduced in snow and ice. Summer tires do not have the tire tract ...