Connecting iPod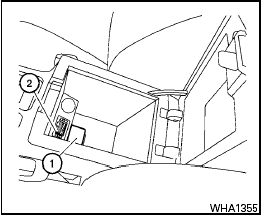 The iPod outlet connector is located on the center console. Your vehicle is equipped with the specialized cable for connecting the iPod to your vehicle audio unit. To connect the iPod , first open the protective cover from the connector in the center console 1 . Next, connect one end of the iPod cable to the iPod and the other end of the cable to the connector in the center console 2 . If compatible, the battery of your iPod is charged during the connection to the vehicle.
While connected to the vehicle, the iPod can only be operated by the vehicle audio controls.
To disconnect the cable from the vehicle outlet, fully depress the center connector button to unlatch the connector and pull the connector straight out of the outlet. To disconnect the cable from the iPod , fully depress the side connector buttons and pull the iPod connector straight out of the iPod .
* iPod is a trademark of Apple Inc., registered in the U.S. and other countries.
See also:
Readiness for inspection/maintenance (I/M) test
Due to legal requirements in some states and Canadian Provinces, your vehicle may be required to be in what is called the "ready condition" for an Inspection/Maintenance (I/M) test of the ...
Measurement of weights
Secure loose items to prevent weight shifts that could affect the balance of your vehicle. When the vehicle is loaded, drive to a scale and weigh the front and the rear wheels separately to determ ...
Heater and air conditioner (automatic) (Type B)
Type B 1. Temperature control dial (drivers side)/ AUTO (automatic) climate control ON button 2. A/C (air conditioner) ON/OFF button 3. Air recirculation button 4. Fresh air intake butto ...