Pulling a stuck vehicle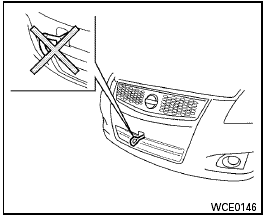 Front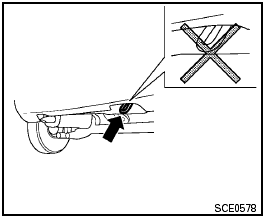 Rear

To avoid vehicle damage, serious personal injury or death when recovering a stuck vehicle.
● Contact a professional towing service to recover the vehicle if you have any questions regarding the recovery procedure.
● Do not use the vehicle tie-downs to tow or free a stuck vehicle.
● Only use devices specifically designed for vehicle recovery and follow the manufacturer's instructions.
● Always pull the recovery device straight out from the front of the vehicle. Never pull at an angle.
● Route recovery devices so they do not touch any part of the vehicle except the attachment point.
If your vehicle is stuck in sand, snow, mud, etc., use a tow strap or other device designed specifically for vehicle recovery. Always follow the manufacturer's instructions for the recovery device.
Do not use the tie-down hooks for towing or vehicle recovery.
See also:
Towing a trailer
Overloading or improper loading of a trailer and its cargo can adversely affect vehicle handling, braking and performance and may lead to accidents. ● Do not tow a trailer or haul ...
Switch operation
The windshield wiper and washer switch operates when the ignition switch is placed in the ON position. Push the lever down to operate the wiper at the following speed: 1 Intermittent — interm ...
Sentra in the Market
The Sentra has been available in its current form for a few years, but it remains a competitive entry in the compact segment. Its drivetrain performance and suspension tuning are praiseworthy, and ...