Engine compartment check locations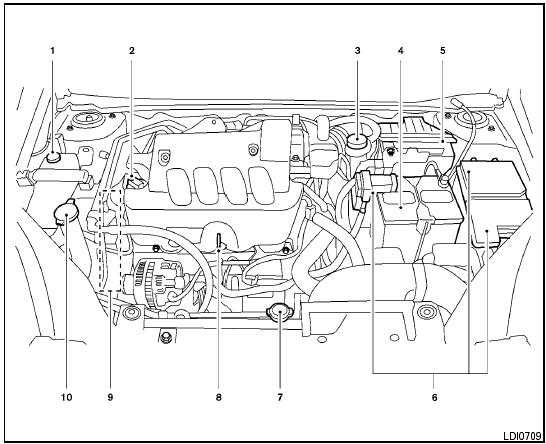 MR20DE engine
1. Engine coolant reservoir
2. Engine oil filler cap
3. Brake fluid reservoir/Clutch fluid reservoir (M/T model)
4. Battery
5. Air cleaner
6. Fuse/Fusible link box
7. Radiator cap
8. Engine oil dipstick
9. Drive belt location
10. Windshield-washer fluid reservoir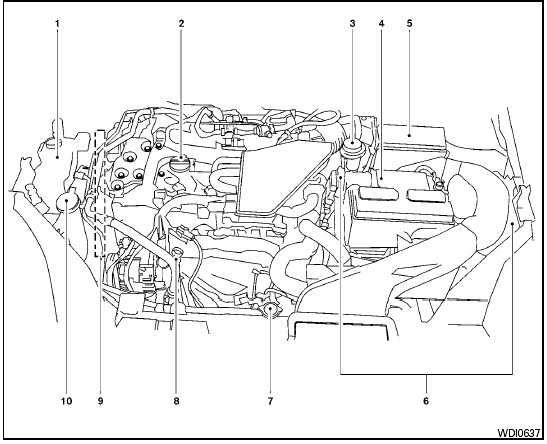 QR25DE engine
1. Engine coolant reservoir
2. Engine oil filler cap
3. Brake fluid reservoir/Clutch fluid
reservoir (M/T model)
4. Battery
5. Air cleaner
6. Fuse/Fusible link box
7. Radiator cap
8. Engine oil dipstick
9. Drive belt location
10. Windshield-washer fluid reservoir
* Engine cover removed for clarity.
See also:
NISSAN vehicle immobilizer system
The NISSAN Vehicle Immobilizer system will not allow the engine to start without the use of the registered key. If the engine fails to start using a registered key (for example, when interferen ...
Precautions when starting and driving
WARNING: - Do not leave children or adults who would normally require the assistance of others alone in your vehicle. Pets should also not be left alone. They could accidentally injure themse ...
Pregnant women
NISSAN recommends that pregnant women use seat belts. The seat belt should be worn snug, and always position the lap belt as low as possible around the hips, not the waist. Place the shoulder ...