Booster seats
Precautions on booster seats

If a booster seat and seat belt are not used properly, the risk of a child being injured in a sudden stop or collision greatly increases:
- Make sure the shoulder portion of the belt is away from the child's face and neck and the lap portion of the belt does not cross the stomach.
- Make sure the shoulder belt is not behind the child or under the child's arm.
- A booster seat must only be installed in a seating position that has a lap/shoulder belt.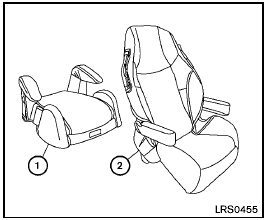 Booster seats of various sizes are offered by several manufacturers. When selecting any booster seat, keep the following points in mind:
- Choose only a booster seat with a label certifying that it complies with Federal Motor Vehicle Safety Standard 213 or Canadian Motor Vehicle Safety Standard 213.
- Check the booster seat in your vehicle to be sure it is compatible with the vehicle's seat and seat belt system.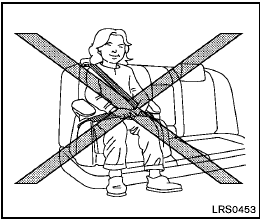 - Make sure the child's head will be properly supported by the booster seat or vehicle seat. The seatback must be at or above the center of the child's ears. For example, if a low back booster seat 1 is chosen, the vehicle seatback must be at or above the center of the child's ears. If the seatback is lower than the center of the child's ears, a high back booster seat 2 should be used.
- If the booster seat is compatible with your vehicle, place your child in the booster seat and check the various adjustments to be sure the booster seat is compatible with your child. Always follow all recommended procedures.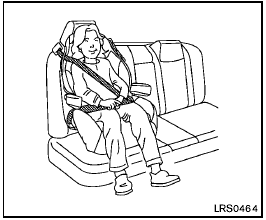 All U.S. states and Canadian provinces or territories require that infants and small children be restrained in an approved child restraint at all times while the vehicle is being operated.
The instructions in this section apply to booster seat installation in the rear seats or the front passenger seat.
See also:
Uniform tire quality grading
DOT (Department of Transportation) Quality Grades: All passenger car tires must conform to federal safety requirements in addition to these grades. Quality grades can be found where applicable ...
Replacing
1. Lift the wiper arm away from the windshield. 2 Push the release tab, then move the wiper blade down the wiper arm to remove. 3 Remove the wiper blade. 4. Insert the new wiper blade onto the w ...
Front manual seat adjustment
Forward and backward Pull the center of the bar up and hold it while you slide the seat forward or backward to the desired position. Release the bar to lock the seat in position. Reclining ...