Headlight beam select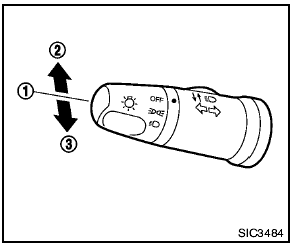 Headlight beam select
1 To select the low beam, put the lever in the neutral position as shown.
2 To select the high beam, push the lever forward while the switch is in the

position. Pull it back to select the low beam.
3 Pulling the lever toward you will flash the headlight high beam even when the headlight switch is in the OFF position.
See also:
FM/AM radio operation
FM·AM button: Press the FM·AM button to change the band as follows. AM → FM1 → FM2 → AM If another audio source is playing when the FM·AM button is pressed, the audio sour ...
List of voice commands
When you push and release the button on the steering wheel, you can choose from the commands on the Main Menu. The following pages describe these commands and the commands in each sub-men ...
Glove box
Open the glove box by pulling the handle. Use the mechanical key when locking (1) or unlocking (2)- the glove box. WARNING: Keep glove box lid closed while driving to help prevent injury in ...